Same pandemic, new battlefront
Cal Guard combat medic has spent nearly a year in the war against COVID-19 in multiple locations across California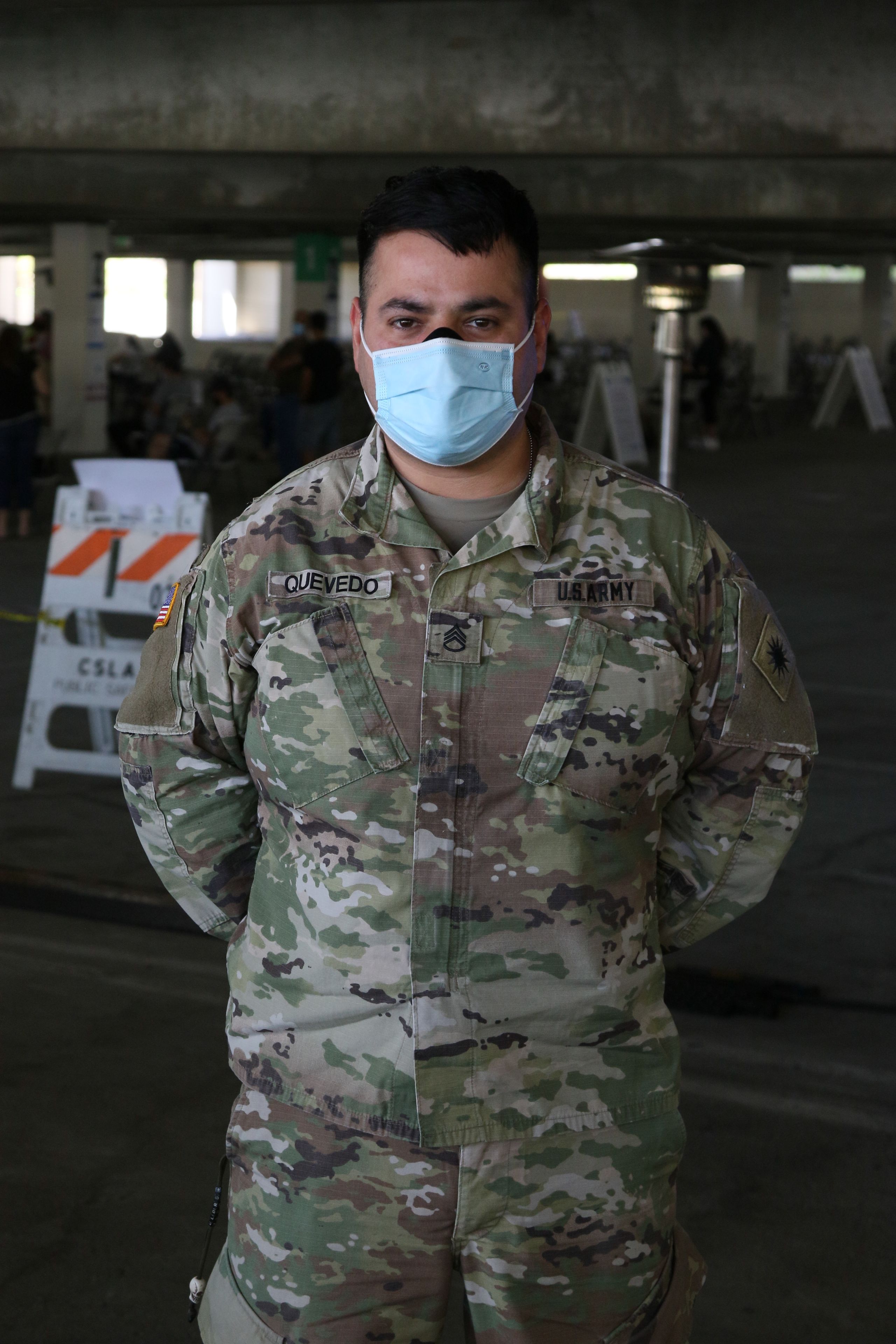 by Cpl. Emma Anderson
California National Guard Public Affairs
April 7, 2021
LOS ANGELES — The California National Guard has been supporting the state's COVID-19 response in a variety of capacities since March 5, 2020. U.S. Army Staff Sgt. Louis Quevedo, a combat medic with the 40th Infantry Division, based out of Los Alamitos, California, has been on orders for the majority of this time.
"I've always wanted to be in the Armed Forces," said Quevedo. "One of the biggest reasons why I enlisted was to be a part of something bigger than myself."
During his initial orders in April 2020, Quevedo served as the battle noncommissioned officer of the COVID-19 mission's tactical operations center in  Long Beach, California. As the battle NCO, Quevedo was in charge of administrative duties such as managing troops, coordinating for lodging, equipment accountability, and collaborating with leadership..
Quevedo stayed at the tactical operations center until June 2020 then transitioned into a role directly assisting members of a skilled nursing facility which had been negatively impacted due to the pandemic. He and other guardsmen augmented the staff of the facility and provided much needed relief.
"The patients really appreciated the help." said Quevedo.
After the mission at the nursing homes concluded, Quevedo assisted his unit's readiness with critical tasks such as the rifle range on-site medic, a requirement to run any live range in the National Guard.
"I stayed on orders until October as part of a federal response team. I then immediately went back to my unit to report to medical missions that required a medic on site." said Quevedo.
In February 2021, Quevedo was activated for the COVID-19 vaccine site at Cal State LA assisting those who are most at risk for COVID-19. Quevedo feels good about being a part of so many missions directly assisting the citizens of California.
"I feel like I've been a big part of the entire process." said Quevedo. "Seeing it from the beginning to the end all the way through is something I am proud of."
Quevedo believes that the momentum created by California state leadership in finding relief for those most at risk, has proven beneficial to citizens across the state.
 "Getting California back on its feet is very important and this is a big step in that process." said Quevedo. "In California, we've had a bumpy ride, but it's just been a matter of picking a direction and walking. Luckily, we picked a path and started walking, and every step of the way gives us more hope."