The Unexpected Translator
Cal Guard Airman provides Mandarin language services at vaccination site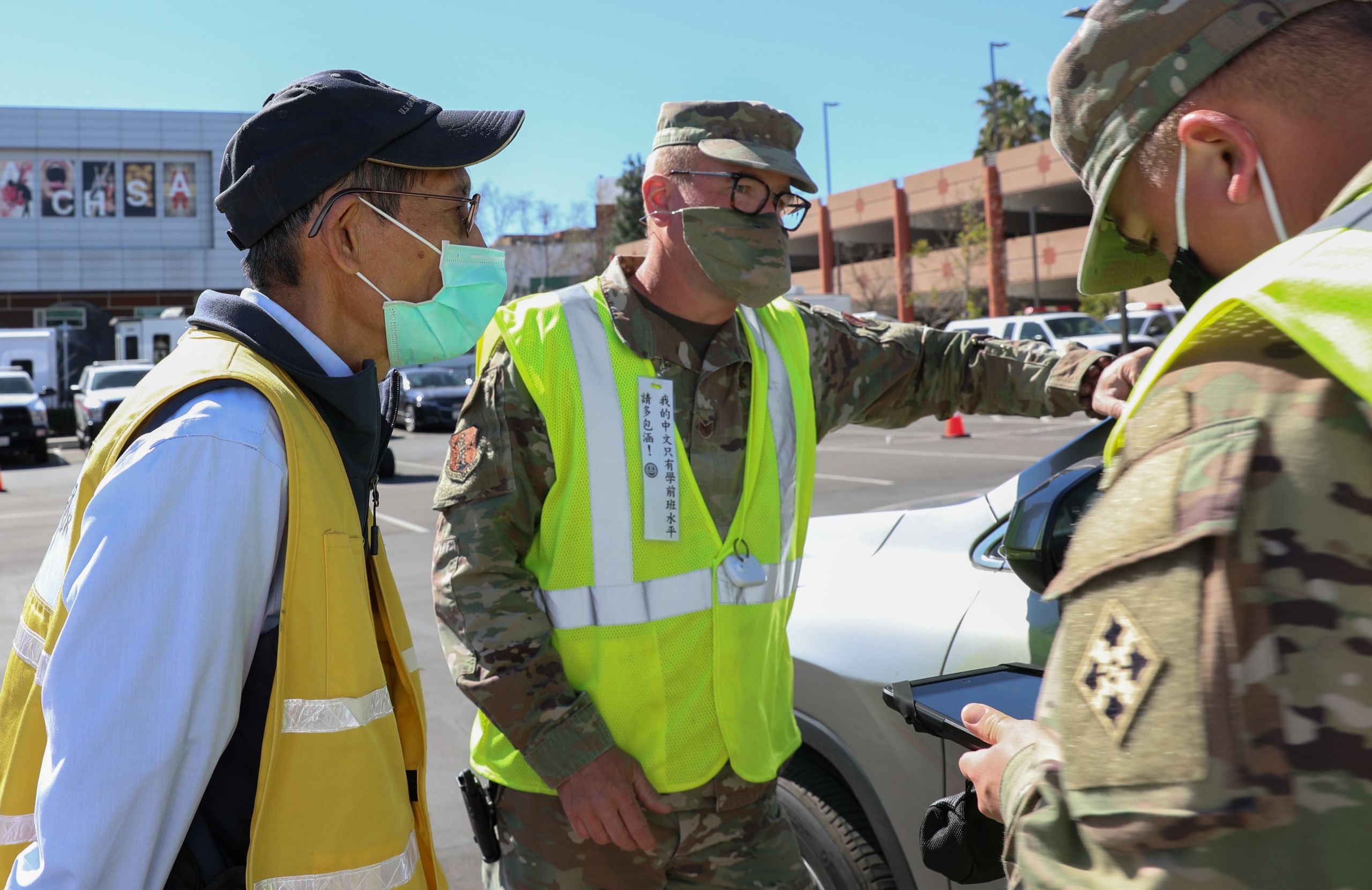 by Spc. Simone Lara
California National Guard Public Affairs
March 31, 2021
LOS ANGELES--"At first, I think they're in disbelief," said U.S. Air Force Staff Sgt. Gary Westergren. "They're pretty shocked to see this white guy speaking Mandarin to them."
Westergren, a blonde-haired, blue-eyed intelligence analyst for the 163rd Attack Wing, California National Guard, is an unexpected sight to Mandarin-speaking community members at the Cal State Los Angeles vaccination center. After 10 years of service in the Marine Corps and following the tragic events of 9/11, Westergren was looking for a new direction in life. So, he decided to become an English teacher in China.
"I wanted to take a break from America and go see the world," said Westergren of his 2002 move to China. "I wanted to get a different perspective. China was like a 180 degree difference from America. It was a refreshing change of pace."
During his two-year stay in China, Westergren grew to love the people, culture and the super spicy food. While he never became fluent in Mandarin, he learned enough to currently assist with language services at Cal State Los Angeles alongside certified Federal Emergency Management Agency interpreters who provide advanced language assistance.
When people come here they aren't sure if anyone is going to speak their language. I break the ice by joking with them and put them at ease, Westergren said.
Pinned to his Air Force uniform, Westergren wears a tag stating, "I speak Mandarin at the level of a preschooler, please have patience with me."
Westergren, who currently lives in San Diego, is one of nearly 250 Cal Guard members serving at the Cal State LA vaccination site alongside active-duty Army, FEMA, California Office of Emergency Services and other partner agencies. Westergren joined the Army National Guard in 2010 before switching to the Air National Guard seven and a half years later.
"We've developed this comradery," said Westergren. "We have Army Guard, Air Guard, regular Army, and we are already like brothers and sisters on the line taking care of each other. We're like a family."