Heroism knows no age
WWII Veteran presented the Bronze Star for combat actions 75 years ago.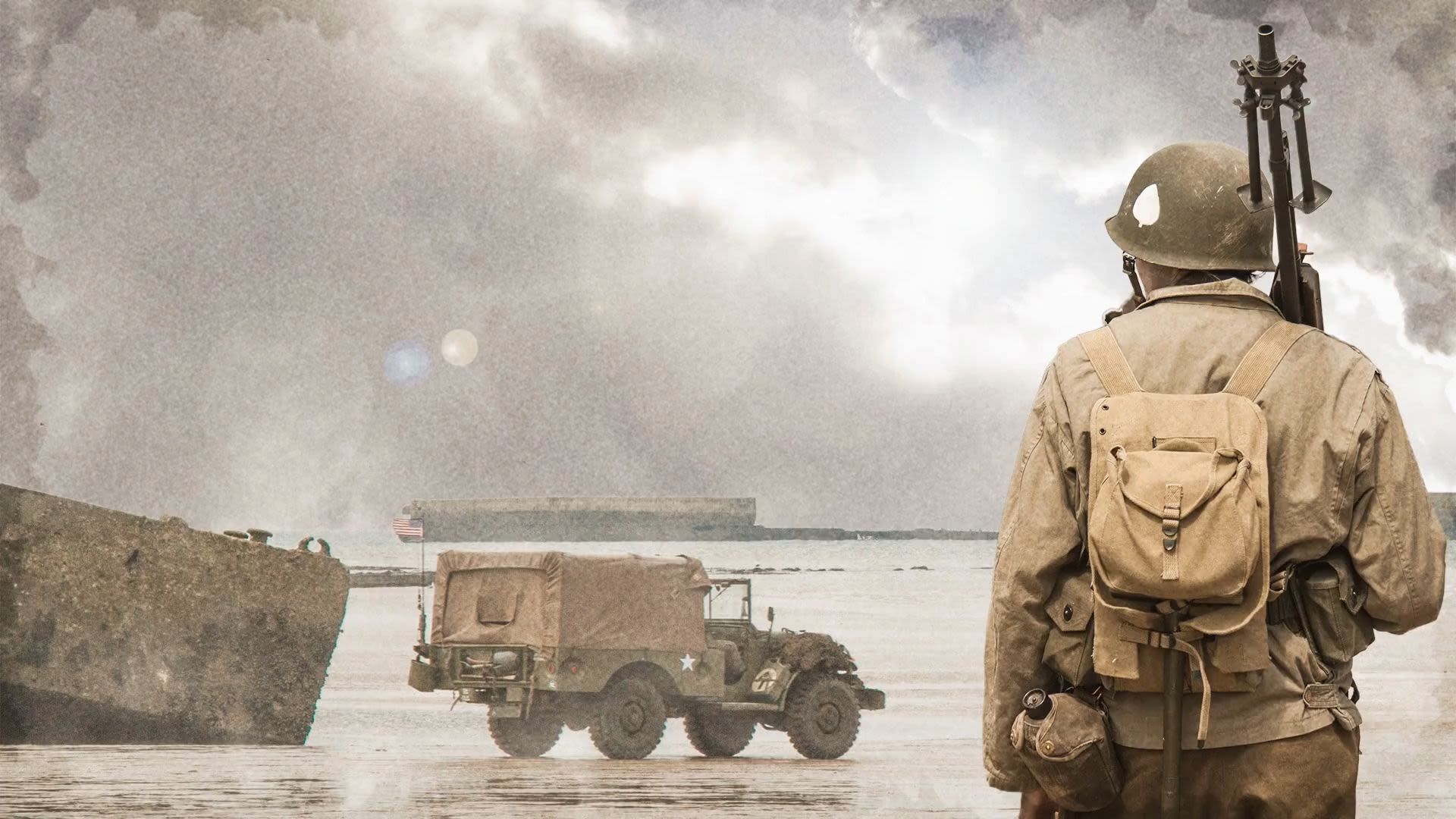 by Sgt. 1st Class Amanda Johnson
California National Guard Public Affairs
July 29, 2021
RANCHO PALOS VERDES, Calif.— Four hands grip the shoulders of 95-year old Ubaldo "Joseph" Ciniero, a World War II veteran, helping him stand from his wheelchair to receive a Bronze Star Medal. 
Silence fell over the small group gathered for the award ceremony.
"This is to certify that the President of the United States of America authorized by executive order, 24 August 1962, has awarded the Bronze Star Medal to Pfc. Ubaldo J. Ciniero, 7th Armored Infantry Battalion, 8th Armored Division for meritorious achievement in active ground combat against the enemy on 17 October, 1944.
"Ciniero's exemplary performance of duty in active ground combat was in keeping with the finest traditions of military service and reflects great credit upon himself, his unit, and the Army of the United States."
"You know what's odd, in my whole life, he's just my dad. And today I realized my dad's a hero."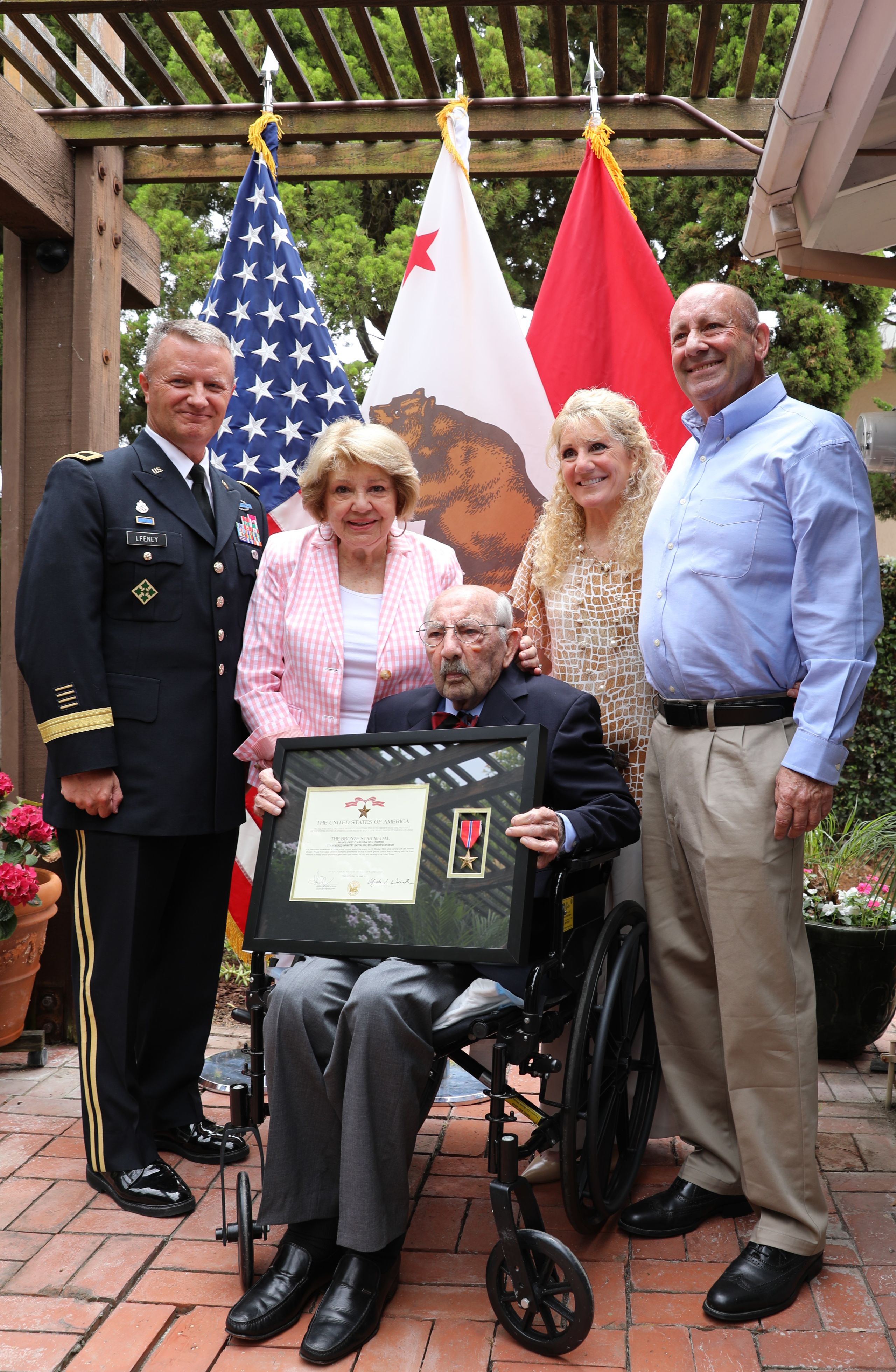 U.S. Army Brig. Gen. Michael Leeney, deputy commander of the 40th Infantry Division in Los Alamitos, pins the medal to the lapel of Ciniero's coat and renders a salute.
While being assisted to stand by his family members, Ciniero returns the salute, his hands steady, while family and friends cheer from their seats in the backyard of his home.
Ciniero was awarded the medal 75 years ago but was never officially presented the distinguished achievement with military honors. Until now.
"I am here today to right a wrong," said Leeney, who was representing California National Guard's Adjutant General, Maj. Gen. David Baldwin. "This is a presentation of the Bronze Star Medal, which is one of the highest awards the Army has for valor in combat."
"I am an infantry officer, and Mr. Ciniero was an infantry Soldier," said Leeney, describing a brotherhood bond born of a shared military occupation and experience. "It is my honor to present our Division challenge coin to him in honor of this occasion."
*****
On a table that displayed numerous military medals and dog tags, a photo album of black and white pictures showcased a young Ciniero proudly standing in an Army dress uniform in Europe.
"You know what's odd, in my whole life, he's just my dad. And today I realized my dad's a hero," said Joel Ciniero, the son of the WWII veteran before the ceremony. "It was like wow! I got to tell you, I get a little bit emotional about it."
As a young boy, Ciniero never spoke about the war. Growing up with his father, Joel looked back in retrospect, and couldn't compare what his father went through as a young man, compared to where he was in his life at the time.
Ciniero's division of assignment landed in France in January, 1945 and took part in combat operations. They then entered the Netherlands, crossed the Rhine River and advanced to the Harz Mountains.
"I found his name on an 8th Armored Infantry website, and I noticed he'd been awarded the Bronze Star," said Ciniero's son. He further investigated and found his father had never been officially awarded the medal.
Ciniero never spoke about battle or the engagements he lived through, but he taught his children about lessons learned. He was always open about things he learned in the Army, how it made him who he is today and passing it to his family, Joel said.
"He's always very guarded about that, and because I think combat was difficult for him," said Joel.
"Even when we are out and he's wearing his WWII veteran hat, and people say thank you for your service," Joel said. "The issue for him is he's grateful, but he really thinks the thanks goes to all his friends that didn't come back from the war."
The division was recognized as a liberating unit by the U.S. Army's Center of Military History and the U.S. Holocaust Memorial Museum in 1995 for the liberation of Halberstadt-Zwieberge, a subcamp of the Buchenwald concentration camp, April 12-17, 1945.
Ciniero sailed back to the U.S. on Sept. 5, 1945 aboard the Queen Mary from South Hampton, England. This ship is now docked 15 miles away from his current residence.
For Ciniero, his ultimate unworn medal is that of those he lost while overseas. He is a hero. By the definition, by those that love him, and now, by the metrics of the U.S. Army's award system.